For more info on Globe Conquerors Manila 2018, don't forget to visit the official event website
SWAGS / FREEBIES

What freebies can I get together with the ticket?
> You can check out the Globe Conquerors Manila 2018 website for more info on the freebies you can get when you purchase a ticket to the event
I bought a ticket but won't be attending the event, can I still claim the freebies?
> You may ask a friend to claim your swags on the days of the event. As for claiming after the event, please wait for further announcements.
TICKETS

Where can I buy tickets to Globe Conquerors Manila 2018?
Tickets to the Globe Conquerors Manila 2018 event are available through SM Tickets or any SM Tickets outlets found in SM Cinema branches located at SM Supermalls branches nationwide. See image below for a complete list of SM Ticket outlets: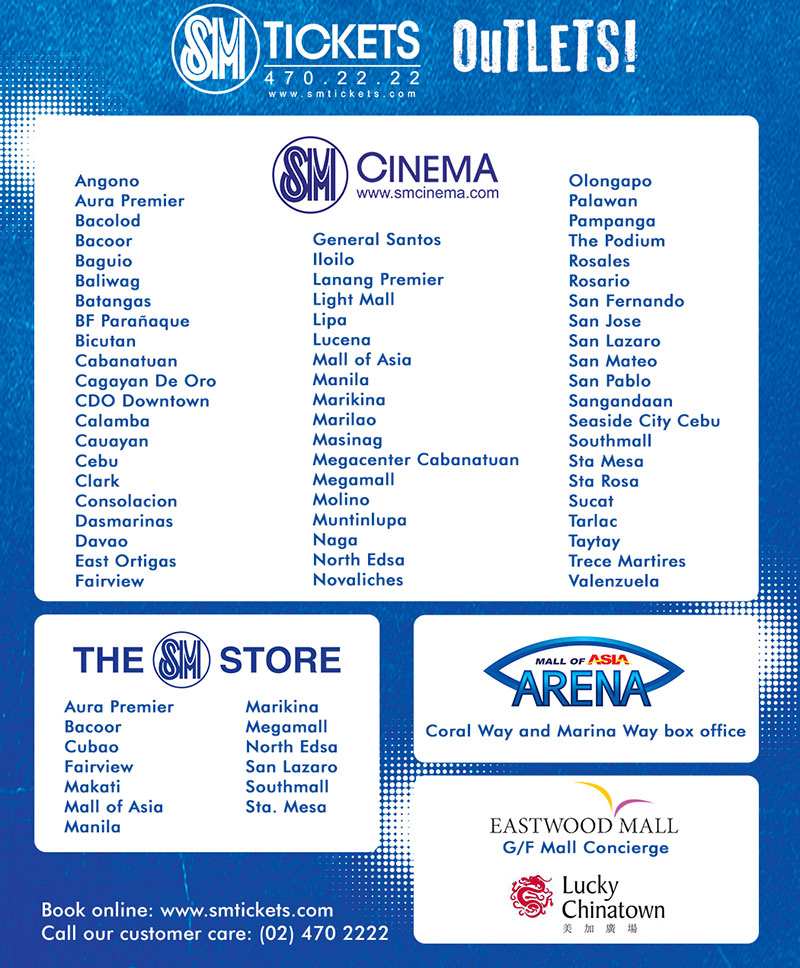 What are the ticket prices?
> Tickets for the event are at PHP 1,000 (for Inner Ring), PHP 500 (for Middle Ring) and PHP 150 (for Outer Ring) per day. For more info on what's included on the tickets, you can check out this link.
Is there a bundle available for two days?
> No, there is no ticket bundle available for two days. Tickets are available only on a per day basis so make sure that you purchase tickets per day if you wish to go on both August 18 and 19 event days.
SM Tickets did not ask me for the seats I want, why is it that?
> Tickets are free seating type - meaning you can take a seat anywhere you like for as long as you are within the tier/area you bought your tickets for (Inner ring, middle ring or outer ring). Please note that seats are on a first come - first served basis thus best if you can go to the event early so you can get a good seat.
Does the free seating & first-come first-served mean I would run out of seats?
> No. Number of tickets being sold is equal to the number of seats available at Mall of Asia Arena thus you will not run out of seats. Best though if you can go early so you can get the best view!
Can I buy tickets online?
> Yes you can buy tickets online through SM Tickets. Please note though that there is a PHP 100 online fee for every ticket purchased and SM Tickets has policies on online ticket redemption (only the cardholder who transacted online can redeem the ticket)
Can I buy a ticket on the day itself?
> Yes, tickets would be available at the MOA Arena Box Office located next to the Coral Way Entrance. However, there is a chance that tickets may run out prior to the event so best if you purchase one as early as you can.