WHAT IS THE DIFFERENCE BETWEEN USERNAME AND SUMMONER NAME?
Your Username is what is used to log into your Garena account. It is important to keep this private and please note that this name cannot be changed

Your Summoner Name is what your friends will see in-game. This is the name that you will be known by on screen and on your friends' buddy lists. Unlike usernames, your summoner name can be changed whenever you like. This change will not affect your username or the way you log in.

HOW MUCH DOES A NAME CHANGE COST?
Name changes are now available for 100 RP or 13,900 BE.

WHERE CAN I PURCHASE A NAME CHANGE?
You can purchase a name change in the game client by clicking on the "Account" button on the top-right hand side of the store, as marked in the below screenshot. Your new name will take effect once you log back into the LoL client.
Please note that any names deemed offensive will be altered by Player Support without refund.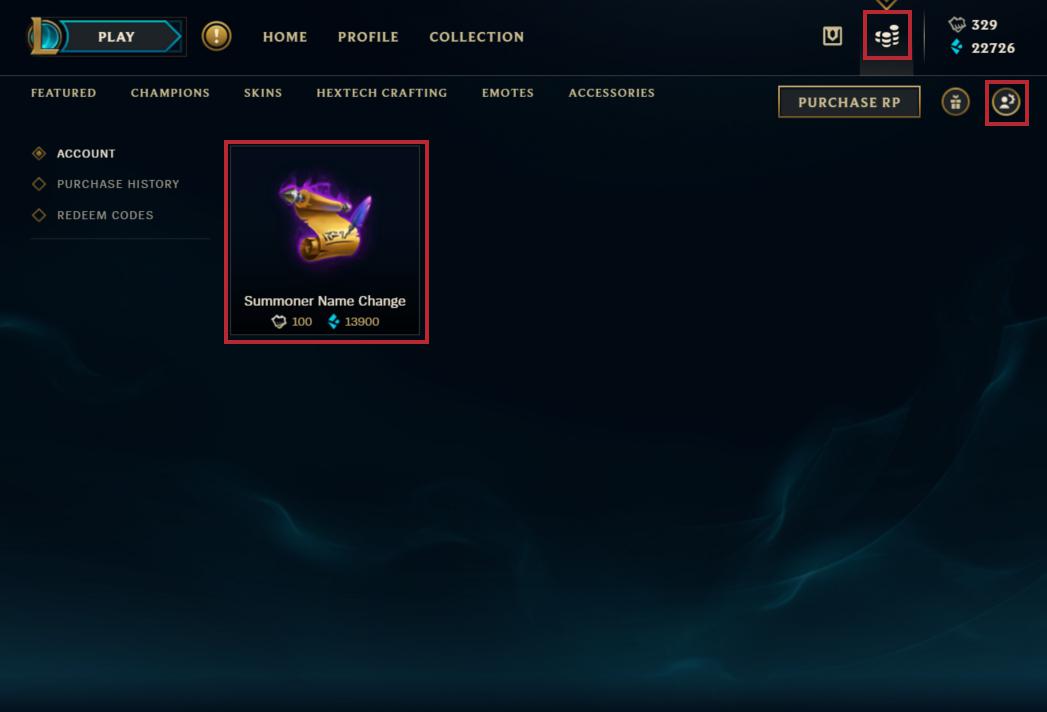 WHAT WILL HAPPEN TO MY FRIENDS LIST?
You will remain on all of your friends' lists under your new Summoner Name. Be sure to let your friends know you've changed your name!
CAN I HAVE A SPECIAL CHARACTER IN MY SUMMONER NAME?
Below are the special characters allowed for Garena PH:
Alpha numeric characters, space, and underscore.
A B C D E F G H I J K L M N O P Q R S T U V W X Y Z
a b c d e f g h i j k l m n o p q r s t u v w x y z
1 2 3 4 5 6 7 8 9 0
. _
Please avoid using the tags GM, GG, MLE, AEX and other known existing club tags that are officially used in esports league or by Garena employees.
Summoners with special characters in their name will flagged for change name.

WHY DID SUMMONER NAME CHANGE TO IHEARTLOLXXX NAME?
If your Summoner Name is ever changed to "IHeartLoLXXX" or any variation on it (where X is equal to any digit), such as IHeartLoL123, your Summoner Name has been deemed inappropriate, and your Summoner Name has been temporarily changed for the time being.

Summoners found guilty of using inappropriate names will have to shoulder the cost and have to buy the Summoner Name Change in game to change it to their preferred Summoner Name.

We do not offer a free name change for the names are deemed to be inappropriate in game..